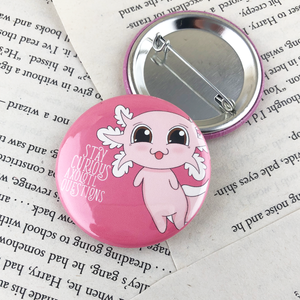 Whether you love pink a little or a lotl this adorable axolotl button or magnet is sure to brighten your day, give you a giggle, and deck out your favorite denim jacket! 
LitNerd's buttons are made for nerds by nerds from art to finish. They make amazing gifts for the flair lover in your life. Or if you want to just buy yourself a little something special for making it through your TBR pile. And if you collect buttons for whatever reason—hey we're not judging—we have a variety of designs sure to make you giggle. 
Share your collection with us on social media! 
Facebook: @LitnerdChest
Instagram: @Litnerd.Chest
If you are ordering more than one button, and one is a gift, please note this in your cart and we will package them separately. 
Drawn by the lovely Lou Wilham especially for us, then hand assembled by us! If you need to clean your button for any reason, just wipe it down with a damp cloth. Each handmade button is approximately 1.75inch in diameter and is available as Pinback, or a magnet.
Pssst… these also make brilliant bridesmaid and groomsmen gifts, wedding and party favors, and we do custom work! If you would like a custom design, or to make a bulk order please contact us at Litnerd.Chest@gmail.com for more information. 
Thank you for shopping with us!
Please note that actual colors may vary depending on screen resolution, brightness, etc.
Cleaning: 
Please do not put pins in the dishwasher. If necessary wipe with damp cloth, and let dry.