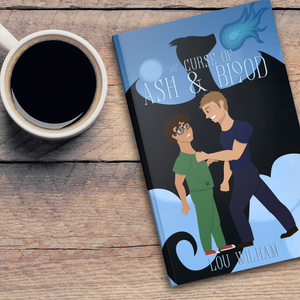 To conquer or to tame—how to break a curse and handle a dragon?
To save his village from ruin, a kind young mage named Fable must face off against the dragon. When Blaze—the dragon—can't be reasoned with Fable turns to the local witch, Gwydion, for aid. But no magic can tame a dragon, and where Blaze's temper goes, tragedy follows. Blaze leaves Gwydion with only one choice, the witch curses Blaze and blesses Fable.

It's the curse—or perhaps fate—that brings them together over and over again through all of Fable's reincarnations. While Fable remembers nothing of his past lives, Blaze is forced to relive his mistakes repeatedly. Until he comes face to face with Fable Alperen, a sweet, good-hearted, veterinarian who just moved to New York.

Could this be the time Blaze finally conquers his own demons? Will Fable finally be able to tame the dragon?

No magic can tame a dragon, but perhaps a curse can help.

A story for lovers of fine fairy tales such as Rainbow Rowell's Cary On, Ashley Poston's The Princess and the Fangirl, and Casey McQuiston's Red, White & Royal Blue.