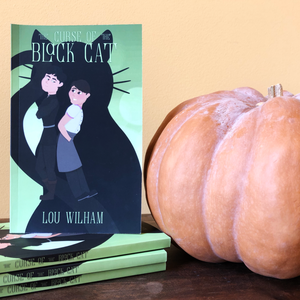 Alrik has two choices: Spend eternity eating mice, or learn to accept himself for who he is.
As his eighteenth birthday draws near, prince Alrik—heir to the throne of Edan—must choose a wife. But when his first kiss with a beautiful princess leaves him feeling cold, he knows that although it is his duty, he cannot love a woman. In a fit of panic, he seeks out the aid of the witch Gwydion. The witch, however, has other plans.
After hundreds of years as a cat, Alrik must learn to accept himself and who he loves or face the rest of eternity as a cat. Luckily, New York City's dumpsters are ripe for the picking. With food from around the world to choose from, he finds himself drawn to one restaurant in particular.
Crystal Tokyo—a restaurant specializing in Japanese food—is Yuuki's first big job as a chef, and he loves it. So, what happens when Yuuki decides to befriend the black cat hanging out in Crystal Tokyo's back alley?
This story is perfect for fans of Rainbow Rowell's Simon Snow Series, Ashley Poston's The Princess and the Fangirl, and A.W. Jantha's Hocus Pocus.