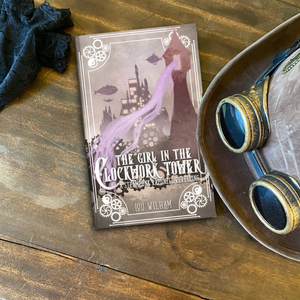 A tale of espionage, lavender hair, and pineapples.
Welcome to Daiwynn where magic is dangerous, but hope is more dangerous still.


For Persinette—a lavender-haired, 24-year-old seer dreaming of adventure and freedom—the steam-powered kingdom of Daiwynn is home. As an Enchanted asset for MOTHER, she aids in Collecting Enchanted and sending them to MOTHER's labor camps.


But when her handler, Gothel, informs Persi that she will be going out into the field for a Collection, she decides it's time to take a stand. Now she must fight her fears and find a way to hide her attempts to aid the Enchanted or risk being sent to the camps herself.


Manu Kelii, Captain of the airship The Defiant Duchess, is 26-years-old and hasn't seen enough excitement—thank you very much. His charismatic smile and flamboyant sense of style earned him a place amongst the Uprising, but his fickle and irresponsible nature has seen to it that their leader doesn't trust him.


Desperate to prove himself, Manu will stop at nothing to aid their mission to overthrow MOTHER and the queen of Daiwynn. So, when the Uprising Leader deposits a small unit of agents on his ship, and tasks him with working side by side with MOTHER asset Persinette to hinder the Collection effort, he finds himself in over his head.


The stakes are high for this unlikely duo. They have only two options; stop MOTHER or thousands more will die—including themselves.


The unique characters, witty dialogue, and fantasy-meets-steampunk world make this fresh take on the classic tale of Rapunzel a must read for fans of Marissa Meyer's Lunar Chronicles, and Gail Carriger's Parasol Protectorate series.