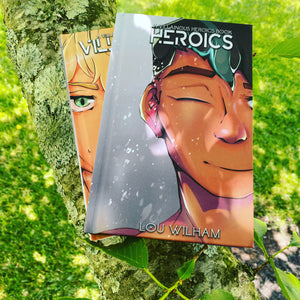 What makes someone a hero?
Soliel-Dusk-is a banshee, living in a divided world, where he's seen as the villain, but that doesn't stop him from fighting against it, or those in power who seek to keep Mythikos at war with itself.
He'd thought things would be easier with Jericho at his side, but something is festering in Mythikos' underbelly.
Faced with the source of the darkness, Soliel will have to decide which is more important, the crumbling city, or its people crying for help.
In this epic conclusion to the Villainous Heroics duology, loyalties are put to the test, friendships are stretched to their limits, and villains become the heroes they never thought they could be.
A LGBTQ+ fantasy scifi novel for fans of J. Elle's Wings of Ebony, Marissa Meyer's Renegades, and April Daniels' Dreadnought.