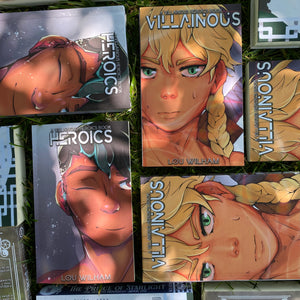 What makes someone a villain?
After the war, Mythikos was divided into three classes Seelie, Unseelie, and human.
For Jericho, a werewolf apart of the Hero Alliance, the world has always been black and white. Heroes and villains. Seelie and Unseelie. Those who protect the humans and those who hurt them. Jericho has always known what side they're on.

But when the villain they've been hunting for the last six months turns out to be their childhood friend, everything Jericho knew is turned upside down. Dusk storms into Jericho's life to show them just how wrong their assumptions are, and that the world is made up of more than just good and evil.
Faced with a world that seems increasingly more grey, Jericho must decide to return to their old life, or trust their friend turned villain.
A LGBTQ+ fantasy scifi novel for fans of J. Elle's Wings of Ebony, Marissa Meyer's Renegades, and April Daniels' Dreadnought.
Magnetic bookmarks not included.