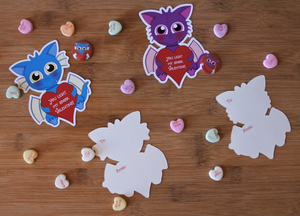 Do you believe in dragons? Do you want to tell that special someone how magical they are? Then our Valentine Dragon handmade valentines might be for you!
Drawn by the lovely Lou Wilham especially for us, then hand-assembled by us! Our hand-drawn valentines come in a set of 20 valentines and pin-back buttons  OR stickers for $15, cut and ready to be filled in and handed out to your loved ones! 
If you would prefer a different ratio, or all purple or blue please let us know in the notes when you order. 
Again each $15 pack includes 20 4x4 Valentines cut and ready for your friends and loved ones. 
Please note that actual colors may vary depending on screen resolution, brightness, etc.
Thank you for shopping with us!