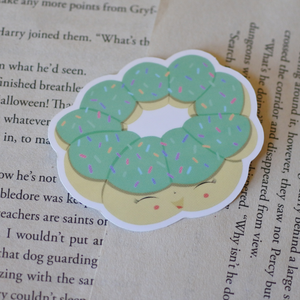 These adorable Kawaii donut stickers are great to jazz up all your school supplies. Add a little color to your favorite notebook. Color code your folders. Or even make that bland school planner a little snazzier. 
Each sticker is about 2 inches x 2 inches, and printed on glossy vinyl to withstand the wear and tear of every day.

LitNerd's stickers are made for nerds by nerds from art to finish. They make amazing gifts for the writer in your life who's struggling through their first draft, querying, or even has already been published. They're perfect to decorate your notebook full of character ideas, or your laptop! And if you collect stickers for whatever reason—hey we're not judging—we have a variety of designs sure to make you giggle. 

Share your collection with us on social media! 
Facebook: @LitnerdChest
Instagram: @Litnerd.Chest

If you are ordering more than one sticker, and one is a gift, please note this in your cart and we will package them separately. 

Drawn by the lovely Lou Wilham especially for our shop! These stickers are made with gloss coated vinyl to help fight wear and tear. If you need to clean your sticker for any reason, wipe it with a damp cloth. 

Pssst… these also make brilliant bridesmaid and groomsmen gifts, wedding and party favors, and we do custom work! If you would like a custom design, or to make a bulk order please contact us at Litnerd.Chest [!at] gmail.com for more information.

Thank you for shopping with us!

Please note that actual colors may vary depending on screen resolution, brightness, etc.